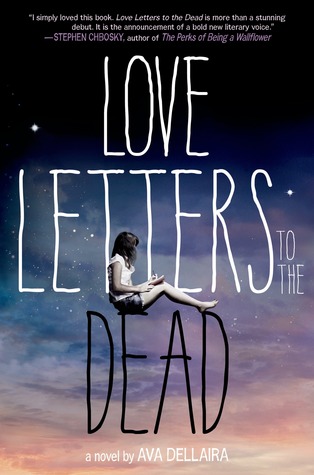 Title:
Love Letters to the Dead
Series:
Standalone
Author:
Ava Dellaira
Pages:
323
Release Date:
April 1, 2014
Publisher:
Farrar, Straus and Giroux
Source:
Own
Summary: It begins as an assignment for English class: Write a letter to a dead person. Laurel chooses Kurt Cobain because her sister, May, loved him. And he died young, just like May did. Soon, Laurel has a notebook full of letters to people like Janis Joplin, Amy Winehouse, Amelia Earhart, Heath Ledger, and more; though she never gives a single one of them to her teacher. She writes about starting high school, navigating new friendships, falling in love for the first time, learning to live with her splintering family. And, finally, about the abuse she suffered while May was supposed to be looking out for her. Only then, once Laurel has written down the truth about what happened to herself, can she truly begin to accept what happened to May. And only when Laurel has begun to see her sister as the person she was; lovely and amazing and deeply flawed; can she begin to discover her own path.
Rating:
4
Review:
This was the most real book I have read in a while. Laurel was so real. Everything about her, her emotions and her character was real and true.
At the end of Laurel's eighth grade year her sister May dies. May was Laurel's best friend and Laurel always thought her sister was perfect. At the beginning of the novel Laurel is entering her Freshman year of high school and she has to find a way to deal with so many things. She must accept that her sister is not here anymore and that her mother left to live in California. Laurel made me want to be her friend so that help her get through all this. But I could not because book characters are not real people so I could not help her.
The entire book is written in letters to dead people that Laurel admires. She writes to about having courage through hard times and she writes to them about death. The letters were Laurels form of a journal. Everything important and hard she would write in the letters. We were not giving tons of useless information about her we were giving the most important information.
The writing was beautiful. laurel is a Freshman in high school and most freshman cannot write half as good as Laurel, which might make people think this book is pretentious but it is not it is honest. Honest about the hardships of life, if people want life to be perfect that is to bad because life is hard. Though I have not had a sister who has died and my parents are note divorced i feel the same way as Laurel about a lot of things. She understands that life sucks. Sometimes I need to read I book not just escape my life but to find a way to get through it.
This a a beautifully heart-wrenching novel and I am so glad i was able to read it! Gayle Forman said that "[Love Letters to the Dead] broke my heart, and pieced it back together again." I agree that this book did break my heart but it did not quite put it back together again. I absolutely recommend that you read Love Letters to the Dead because this is a book that I will cherish for a long time and will never forget it. I feel like my review does not do this book enough justice because this book was beautiful.
Also please take a moment to enjoy the cover because this a one of the best book covers I think I have ever seen!
Favorite Quotes:
-"I think a lot of people want to be someone, but we are scared that if we try, we won't be as good as everyone imagines we could be."
-"I know I wrote letters to people with no address on this earth, I know that you are dead. But I hear you. I hear all of you. We were here. Our lives matter."
-"And maybe what growing up really means is knowing that you don't have to be just a character, going whichever way the story says. It's knowing you could be the author instead."
-"Sometimes when we say things, we hear silence. Or only echoes. Like screaming from inside. And that's really lonely. But that only happens when we weren't really listening. It means we weren't ready to listen yet. Because every time we speak, there is a voice. There is the world that answers back."
-"You can be noble and brave and beautiful and still find yourself falling."
-"There's more to life than being a passenger."
-"But we aren't transparent. If we want someone to know us, we have to tell them stuff."
DFTBA
-Janussa